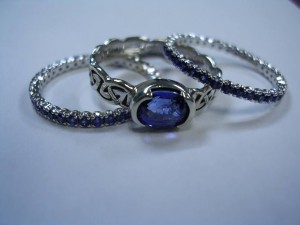 Couples have been getting married for generations and still, most want to make their ceremony completely their own, from the dress to the venue, the music to the menu. And it all starts with the marriage proposal. In the quest to personalize your proposal, don't be afraid to think outside the box when it comes to the traditional diamond ring. Gemstones other than diamonds have been trending as the "crown jewel" for one of a kind engagement rings. While some couples appreciate using the bride's birthstone, others choose a gemstone that has special meaning to them. 
A Rainbow of Rings
There are many gemstones aside from diamonds that may be mounted as engagement rings. Among the most popular are moissanite, opal, morganite, pink sapphire, tanzanite, ruby, and emerald. A bride may choose a gemstone ring because of the beauty of the gem — a perfectly valid reason —  or because of its symbolic message. 
Moissanite is one of the first gemstones to rival any other gemstone in fire and brilliance. Often mistaken for a diamond; moissanite is more durable than sapphire and ruby, even refracting more light than a diamond. 

Opals represent devotion and loyalty, and hundreds of years ago, opals were believed to be talismans that brought good luck. 

Morganite, a namesake of Gilded Age financier J.P. Morgan, is associated with the heart chakra and the idea of divine love. 

Pink sapphire, often a light pink shade that suggests femininity, represents fidelity and faith in your beloved. At 9 on the Mohs scale of hardness; Sapphire is a perfect choice for an engagement ring center stone as its durability out performs softer gemstones. Sapphire is available in any color of the rainbow.

Tanzanite is one of the newer gemstones available, discovered just over 50 years ago. This stone signifies starting a new chapter, perfect for a marrying couple embarking on a new life together.  

Ruby, a red stone associated with love and passion because of its color, is the second-most popular choice for gemstone engagement rings. 

Emerald has a history going back thousands of years, which makes it a good selection for engagement jewelry because it symbolizes endurance. 
Choosing a Unique Engagement Ring Setting
Your top-rated Dallas jeweler, Gem Classics, will be thrilled to help you find the perfect mounting for your gemstone engagement ring. Discuss with your jeweler whether you want to source and purchase the stone separately and then design a ring that accentuates the best parts of that cut, or whether you choose to buy a ring where the stone's already set. Keep your jeweler apprised of when you plan to pop the question so he knows how much time there is to work with before the proposal. Gem Classics, best jeweler in Addison, will be able to show you an array of stunning gemstone engagement rings for every style and budget.
Popular Gemstone Engagement Ring Designs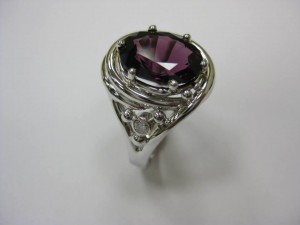 Gemstone rings are stunning as solitaires, commanding attention with their color and beauty. Today's on-trend gemstone engagement rings also feature design elements like side stones. Multi-stone rings may have complementary shapes or you could choose contrasting shapes, like trillions alongside a princess cut stone. Other popular engagement ring designs include diamond halos and diamond bands, north-south cut stones set east-west, and split shanks. 
By working with Gem Classics, you can be assured of choosing among the best engagement rings. With a quality stone and a setting that showcases the glorious color of your gem, your engagement ring will be a true symbol of your love for each other. Visit Gem Classics, the best jeweler in Dallas, for expert guidance in finding the perfect one of a kind engagement ring for the perfect partner.